Reading List is a reverse playlist. Instead of sharing a list of songs that can go with the book in some way, I'm going to share a list of books that go with one song in some way.
Twenty One Pilots has become one of my favorite bands recently! They pack a lot of meaning into their songs and their lyrics can be interpreted in many different ways. For me, "Guns For Hands" is mainly about suicide, depression, and fear. I read a comment on YouTube saying that the song is about the singer's fear that many of his fans (or just people in general) might be hurting themselves (and others).
I know what you think in the morning,
When the sun shines on the ground,
And shows what you have done,
It shows where your mind has gone,
And you swear to your parents,
That it will never happen again,
I know, I know what that means, I know.

That you all have guns,
And you never put the safety on,
And you all have plans,
To take it, to take it,
Don't take it, take it, take it.
Suicide, depression, and fear exist in many books, but not all of them fit the song well. I'm going with books that fit the vibe of the song. I also picked some because they feature gun violence in some way (they go well with the lyrics) and can also connect to what the song is about.
Impulse focuses on suicide in a raw way. It's a powerful read! It's really sad, too.
I'm including All the Bright Places not just because of its focus on mental illness, but also because it has a similar moment that the song has. There's a quiet moment (after the rap portion) that tends to leave me feeling stunned (especially when I'm watching the video). There's a part in the book that made me feel similarly, so it seemed like the perfect fit for this list.
Underwater has a looser tie to the song, but it still seems like a good fit. Morgan has to overcome an incredible amount of fear in her story. There's a small, but important focus on gun violence as well.
I hesitate to add
Belzhar
to this list because it's not that memorable to me, but there's a part in the song that made me think of the book: "
But there's hope out the window/ So that's where we'll go / Let's go outside and all join hands / But until then you'll never understand." It reminds me of the group of characters and to the place that seemed happier and more hopeful.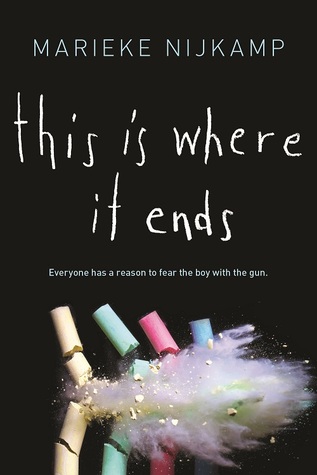 Despite having not read it yet, this is the first book that I think of when I hear "Guns For Hands." The cover is a strong one that seems to fit the song and its vibe. The gun violence is a clear connection to the song title and some of lyrics. I'm not sure if or how much this book focuses on depression and suicide, but I won't be surprised if one or both play a big role in the events. I know there will be a lot of fear in the story, though.
Do you think these books go well with the song? Are there any books you think should be added?