Hello! Welcome to my stop of the What We Left Behind blog tour, which is hosted by the lovely Hannah @ The Irish Banana. (This is my first time participating in one of her tours, and I've had such a great experience so far! The emails are so fun to read. Just sayin.') I'm about a quarter of the way into the book and I'm liking the story!
I get to share a top 10 list by Robin Talley, and from the looks of it, I gave her a challenging topic. :D I love this list!

Out of everyone on it, I've only met Santana and Patrick (movie version) and I love them! I'm really interested in reading

George

and

The Miseducation of Cameron Post, and maybe watching the movie Milk. Those are my thoughts on this post! Feel free to leave your own thoughts in a comment or tweet.☺
This list was really hard to make. But here are my top 10 LGBTQIA+ fictional characters across media ― TV, movies, and books.
(One qualifier: I am terrible about keeping up with TV and movies, and often haven't seen recent stuff even if I've heard it has excellent representation (e.g. I haven't yet watched Orange Is the New Black, Faking It, The Fosters, etc.) So this isn't representative of the best stuff out there, just the stuff I've managed to encounter.)
Rickie Vasquez from

My So-Called Life. I was a high school sophomore the year this show, about a bunch of high school sophomores, aired for the first time. Rickie, played by actor and activist Wilson Cruz, was the first gay fictional character I encountered. He made an enormous impression on me without my even realizing it at the time.

Harvey Milk in

Milk. The 2008 movie of Harvey Milk's life was how I was introduced to his story and to this era of queer politics. So much awe.

Idgie from

Friend Green Tomatoes at the Whistle Stop Café by Fannie Flagg. If you've only seen the movie adaptation, which centered around two best buddies played by Mary Stuart Masterson and Mary-Louise Parker, you've missed out. In the book, the two are explicitly described as a couple ― a couple who were wholly accepted by their tiny, Depression-era Alabama town. Idgie is the best ever.

Cam from

The Miseducation of Cameron Post by Emily Danforth. Cam is fierce

, you guys. When she wants something ― whether it's a girl, or to piss off her conservative aunt who sent her off to full-time ex-gay school ― she freaking goes for it. I wish Cam were real so we could hang out.

Patrick in

The Perks of Being a Wallflower by Stephen Chbosky. Wow, do I ever wish I'd had this book, and this character, when I was a kid. Patrick is openly and unapologetically gay and shows no sign of caring one whit what anyone thinks of it ― even though it's clear that people think plenty. Charlie is the real hero of this YA classic, but Patrick's my hero, too.

Melissa from

George by Alex Gino. Melissa made me cry I don't even know how many times. It's just that to 10-year-old her, the world looks so simple. She's a girl ― why won't other people just see her the same way she sees herself? Viewing the world through Melissa's eyes for the length of this book was an incredibly experience.

Corky from

Bound. Another incredible experience: watching this movie in high school. Wowsers. Corky is a force of nature, and when she and Violet team up, they aren't just ready to take on the mob ― they could take over the whole world if they wanted to. But they don't want to. They just want each other.

Santana from

Glee. Santana would be higher up in this list if it weren't for that terrible coming out episode where she danced around to Katy Perry's deeply offensive song "I Kissed a Girl" like it's some kind of pro-queer anthem, but anyway. Her journey from so-closeted-she-regularly-bangs-dudes to out-and-proud-and-marrying-her-high-school-girlfriend was fascinating. And man, was she ever cute.

Nate from

Better Nate Than Ever

and

Five Six Seven Nate by Tim Federle. The would-be star of E.T.: The Musical

made me laugh so hard I kind of couldn't deal. I recommend this middle-grade series to YA readers all the time. It's basically a YA book. It has more jokes and slightly less kissing, but there's more than enough theater drama to more than make up for it.

Carmen from

The L Word. Speaking of cute… The L Word

was terrible TV, with generally bad writing, bad acting, the works. But I had a ginormous crush on Carmen for the duration of her way-too-short arc on the show, so she gets a spot in my top 10.
Here are some other characters I considered for the list but who didn't make the cut for the top 10:
Joyce from

Mad Men

Jack from

Kings

(played by Sebastian Stan!)

Prior Walter from

Angels in America

Kennedy from

Buffy the Vampire Slayer

Luce from

Imagine Me & You

Maureen Johnson from

Rent

Helen from

Kissing Jessica Stein

Matthew from

Four Weddings and a Funeral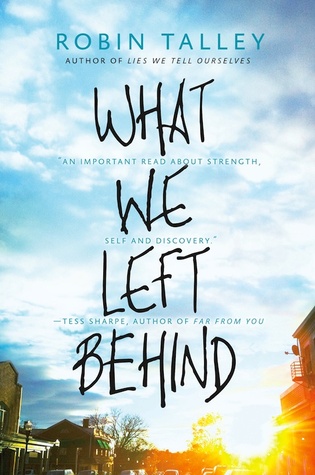 Series:
standalone
Publication Date: October 27th, 2015
Publisher: Harlequin Teen
Toni and Gretchen are the couple everyone envied in high school. They've been together forever. They never fight. They're deeply, hopelessly in love. When they separate for their first year at college—Toni to Harvard and Gretchen to NYU—they're sure they'll be fine. Where other long-distance relationships have fallen apart, their relationship will surely thrive.




The reality of being apart, however, is a lot different than they expected. As Toni, who identifies as genderqueer, falls in with a group of transgender upperclassmen and immediately finds a sense of belonging that has always been missing, Gretchen struggles to remember who she is outside their relationship.




While Toni worries that Gretchen, who is not trans, just won't understand what is going on, Gretchen begins to wonder where she fits in Toni's life. As distance and Toni's shifting gender identity begins to wear on their relationship, the couple must decide—have they grown apart for good, or is love enough to keep them together?
I grew up in Roanoke, Virginia, and escaped to Washington, D.C., at the first opportunity. I now live with my wife, our antisocial cat, and our goofy hound dog on Capitol Hill and work for a progressive nonprofit organization. I spend my nights and weekends writing young adult fiction about queer characters, reading books, and having in-depth conversations with friends and family about things like whether Jasmine's character motivation was sufficiently established in
Aladdin
.
My first novel,
Lies We Tell Ourselves
, was released in September 2014 by Harlequin Teen. It's set in 1959 Virginia, and it's about a black girl who's one of the first to integrate an all-white high school, and the white girl with whom she ultimately falls in love. My next book,
What We Left Behind
, follows a high school couple -- Gretchen, who identifies as a lesbian, and Toni, who identifies as genderqueer -- whose relationship is tested when they're separated for their first year of college. It's coming out in November 2015.
3 Finished Copies of WHAT WE LEFT BEHIND - US Only
a Rafflecopter giveaway
Week 1:
Oct. 26: No BS Book Reviews - Q&A
Oct. 27: Addicted 2 Novels - Review
Oct. 28: One Way Or An Author - Fan Art
Oct. 29: Emily Reads Everything - Review
Oct. 30: Reading Is My Treasure: Top 10

Week 2:Nov. 2: The Cover Contessa - Guest Post
Nov. 3: Good Books & Good Wine - Review
Nov. 4: A Book & A Latte - How I Write
Nov. 5: Kelly Vision - Review
Nov. 6: Reading Is Better With Cupcakes - Review