Guess what? The Distance Between A to Z releases TOMORROW. I'm really excited for this one, especially after working on this feature with Natalie! Her debut has been getting great early reviews, which is an even better reason to look into it (if you haven't already, that is).
Since this book is titled The Distance From A to Z, Natalie and I settled on an alphabet related post. I really hope you like learning more about her and this book. And I hope you're as excited to read it as I am! (Have I mentioned it's releasing TOMORROW? Eeeeep!) Thank you to Natalie for the wonderful list.☺
First, A Little About the Book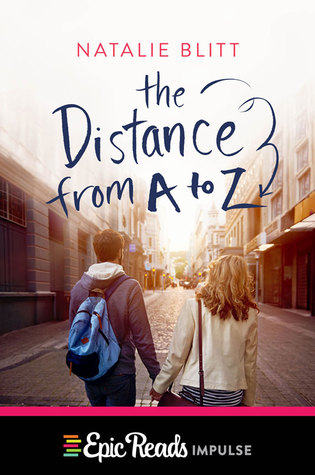 This full-length novel by debut author Natalie Blitt is a pitch-perfect blend of Stephanie Perkins and Miranda Kenneally that proves the age-old adage: opposites attract.

Seventeen-year old Abby has only one goal for her summer: to make sure she is fluent in French—well, that, and to get as far away from baseball and her Cubs-obsessed family as possible. A summer of culture and language, with no sports in sight.

That turns out to be impossible, though, because her French partner is the exact kind of boy she was hoping to avoid. Eight weeks. 120 hours of class. 80 hours of conversation practice with someone who seems to exclusively wear baseball caps and jerseys.

But Zeke in French is a different person than Zeke in English. And Abby can't help but fall for him, hard. As Abby begins to suspect that Zeke is hiding something, she has to decide if bridging the gap between the distance between who she is and who he is, is worth the risk.
This ebook's price is only $1.99!
**Releasing January 12th 2016 by HarperCollins**
26 Things to Know About Natalie and Her Book
A – Abby, the main character and heart of the book.


B – Baseball. Abby hates it, Zeke not so much. But it's an important character in the story.


C – The Cubs is Chicago's home team and one of the reasons that Abby hates baseball. Though I think this year, Abby might have felt differently about the team's prospect.


D – Debut and dream. I couldn't choose between the two because this is my debut release and it's an absolute dream come true that it's happening.


E – Erreur (French for mistake). That, sadly, is an important word in this book.


F – French – it's everywhere and I promise that even if you don't speak a word, you'll understand it all.


G – Gratitude. That's mine again. If I could have written the acknowledgements I wanted, they would have been pages and pages long. I am grateful for so many people's help and love.


H – Huntington University, the college summer program for high school students where Zeke and Abby are forced together.


I – Inspiration. It was actually my husband who inspired the book. He suggested that I should try writing a story that my baseball-obsessed sons might be interested in. I'm not sure this qualifies.


J – Jock. How Abby defines Zeke. Only the word sounds funny in French.


K – Kissing. There may be a lot of it. Though it could be not enough…


L – Love. Of course.


M – Marianne, the French professor. She's totally kick ass. I wish she'd been my teacher.


N – Notre Dame Cathedral. While it is located in Paris, Zeke may have found a version in Merrit.


O – Oui (French for yes). It gets used.


P – Paris! It's Abby's dream destination and, let's face it, mine too.


Q – Quebec. There's a road trip to Montreal and it's swoony… until it's not.
L
R – Real life. In real life, I have three sons and it's all baseball talk all the time in my house. Except they love the Tigers, not the Cubs.


S – Sportif. The actual French word for jock (see J).


T – Trivia. My favorite scene might be the trivia competition. I love a good competition, just like Abby!


U – University in France, specifically the Sorbonne, is where Abby wants to go. That's part of the reason she needs her French to be perfect.


V – Vouloir (French for want). It's explained in the trivia scene but I kind of love it.


W – Writer. That'd be Abby's roommate and best friend Alice. She's a poet but I couldn't use P for anything but Paris…


X – Wait until you see what happens when Abby & Zeke watch an x-rated movie together. It's… steamy.


Y – Young Adult books. They're everything.
Z – Zeke, the boy Abby falls in love with and who challenges her views and the way she lives in the world.
Originally from Canada, Natalie Blitt grew up on a steady diet of loyalist adventure stories. It wasn't until she moved to Chicago after graduating from McGill and receiving a journalism degree from the University of King's College, that she learned that not everybody sees the loyalists as the heroes. Now living in the Chicago-area, she dreams up young adult novels of a different sort: more kissing, less guns, but always a lot of loyalty. Natalie works at an education think tank and lives with her husband and their three sons. She knows a lot about baseball. She has no choice.
Natalie is represented by Rena Rossner at the Deborah Harris Agency.
Website
|
Twitter
|
Facebook
|
Instagram
How excited are you for Natalie's debut? Which of the facts caught your attention the most?