Sunday Street Team is organized by Nori @ ReadWriteLove28. SST is a cross between a blog tour and street team for a couple different titles each month. As the title suggests, the posts go up on Sundays!

Go here to learn more about SST.
One of the featured authors for this month is Emily Henry! I was able to ask Emily some questions and let me tell you...her answers are great. It makes me even more excited to dive into
The Love That Split the World
when I can get that pretty book in my hands. (IT RELEASES IN TWO WEEKS. YAY!!) There's a lot of information about the characters (including something Harry Potter themed...) as well as quote, some songs, and more.☺ Enjoy the interview! Let me know what stands out to you the most!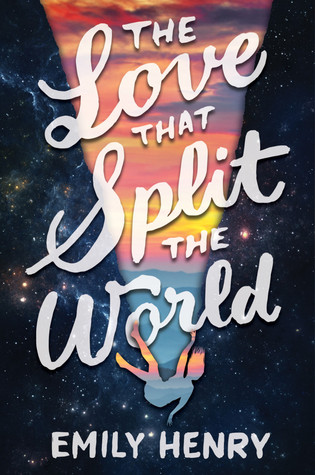 Natalie Cleary must risk her future and leap blindly into a vast unknown for the chance to build a new world with the boy she loves.

Natalie's last summer in her small Kentucky hometown is off to a magical start... until she starts seeing the "wrong things." They're just momentary glimpses at first—her front door is red instead of its usual green, there's a pre-school where the garden store should be. But then her whole town disappears for hours, fading away into rolling hills and grazing buffalo, and Nat knows something isn't right.

That's when she gets a visit from the kind but mysterious apparition she calls "Grandmother," who tells her: "You have three months to save him." The next night, under the stadium lights of the high school football field, she meets a beautiful boy named Beau, and it's as if time just stops and nothing exists. Nothing, except Natalie and Beau.

Emily Henry's stunning debut novel is Friday Night Lights meets The Time Traveler's Wife, and perfectly captures those bittersweet months after high school, when we dream not only of the future, but of all the roads and paths we've left untaken.
Pre-order:
**Releasing January 26th 2016 by Razorbill**
Interview With Emily Henry
Hi Emily! I'm excited to interview you for the Sunday Street Team. :)
Thank you so much, Kaitlin. I'm really excited to talk with you about my book!
There seems to be a fantastical, time travel element to The Love That Split the World. How large of a role does it play in the story?
The fantastical element is crucial to the story, but the book does read largely like a contemporary novel. Well, depending on whom you ask. In early reviews, I've seen TLTSTW referred to as
sci-fi
,
fantasy
,
contemporary
, and
magical realism
.
I think this is because I tend to be a Believer™. By that I mean: I'm the friend who's always like, "Guys, did you read that article about how octopuses might be aliens? I mean, definitely I think it's possible our universe is a hologram. Of course telepathy is real—isn't it obvious that our thoughts are travelling around in the ether, and occasionally they bump into one another?"
So all that to say, when I started reading about the science of time—and of time travel—I was like, "okay, this makes sense. Of course this could happen. There are a million different reasons and ways it could happen, but here's the one that interests me most."
2016 is going to be full of amazing time-travel books (shout out to
Into the Dim, Passenger, The Girl From Everywhere
), but mine might
feel
a bit less like sci-fi or fantasy because it's
not
, exactly. It's a story about a girl and a boy, and a world where every impossible thing
can
be explained, but often we don't have enough information to do so.
There's only so much a book description can say about characters, so I'm curious! What is Natalie's personality like? How much have you been able to relate to her?
Oh, my dear, sweet Natalie. Natalie is... complex. She's highly sensitive and prone to big feelings but she's also cautious and analytical, always trying to understand
why
she does the things she does. And while the people she's closest to have access to all those parts of her, she's content to stay on the surface with everyone else. If you asked her classmates to describe her, they'd probably say "funny," but if you asked her best friend, Megan, she'd probably say "tender."
How do I relate to Natalie? Ohhhh, too much. I know what it's like to be a mushy ball of feelings, to look at the people around you and think, "Why can everyone else deal with this, but it's paralyzing to me? Why is the world so overwhelming?"
Really, that's first and foremost whom I feel like this book is for: people with big, powerful feelings. Those who sometimes feel too soft for the harsh world around them.
I always love to hear about the love interest. What are some of Beau's best and worst qualities?
BEAU. Beau's best quality is his steadfastness. Beau is
not
the guy I would've gone after in high school. He won't charm you with a witty retort or a reference to your favorite book. But when you need him, Beau's going to show up. He has a relatively simple worldview and pretty much knows what he wants out of life, and this is especially alluring for a girl like Natalie, who's ambitious and eager to start her future and has a habit of seeing the most complicated version of things. He's sort of a human Chill Pill.
But he's also a chronic underachiever, and a lot of the time, he lets other people's low expectations of him define him.
What other characters can readers expect to meet?
Natalie's whole family plays a significant role in the story, as does her best friend, Megan, who is just The Absolute Best™. She and Natalie are one another's rocks, and all the banter and wit you don't necessarily get from Beau? Natalie doesn't need it in a romantic partner because she has that match with Megan.
And then of course, there's Grandmother, who is not, in fact, Natalie's grandmother but an old woman who appears in the night to tell Natalie stories. I won't say anything else because Spoilers.
What has been the most surprising part about your debut journey so far?
I'd have to say getting to know other authors. There are a
lot
of things that occur to you when you sell a book, but I can safely say it didn't occur to me that this meant I was going to become friends with so many amazing storytellers and writers.
It's been a surreal experience, reading early copies of these authors' books. I keep finding myself totally immersed and then suddenly, there's this little
zing
through my body when I remember,
I know the person who wrote this incredible story!
It's an honor, and it's also a pleasure to know that so many of these great writers are also just gems of human beings.
And while the fact that I'd have
readers
occurred to me, I still wasn't prepared for the overflow of emotion and gratitude I felt when I got my first 5-star review from a stranger. It's kind of funny, but knowing a stranger loved my book has had the effect of making me feel like we're instant friends. I'm like, "okay, if you
got
this book, then you pretty much get me, so let's just make cheese fries and talk through a made-for-TV movie."
What is one of your favorite quotes from your debut (that you can share, of course)?
Hmmm. I think I'll go with one that's already out there in the wild:
"I am a tiny, important thing, tearing through the earth." I think this is at the core of the story, that you and your life are sacred no matter how "small."
What is a song that fits your book or ones of the scenes in it?
Ooh, can I do two? First, I'd say "Helpless" by Crosby, Stills, Nash, & Young, which fits the tone of the book beautifully. Every time I hear that song, it sends an ache through my heart and instantly makes me feel like crying. It's a good fit for Natalie and her feelings about her hometown and her life there.
Second, I'd say "Threnody" by Goldmund, which is one of the most
intimate
pieces of music I've ever heard. I love all the silence between notes, and how you can hear the fingers on the piano keys in the recording. It's beautiful and nostalgic and most of all, gives the feeling of being
in
the room with the person playing it. To me, it's the
sound
of lying in fading light, tracing someone's wrinkles and freckles with your fingers. It definitely inspired some of the scenes between Natalie and Beau, who plays the piano himself.
This is totally random, but very important: what Hogwarts houses would your characters be sorted into?
Oh, Natalie's totally a Gryffindor, who could've been a Slytherin or even a Ravenclaw, but knew Megan would end up in Gryffindor so told the Sorting Hat that's where she wanted to be.
I think Beau would get accepted to Hogwarts but he'd assume it was too fancy for him and throw away the envelope before his mom ever saw it. If you could get him there, the Sorting Hat would say Gryffindor and everyone would be shocked, because outwardly he's a Hufflepuff.
...Not that I've thought about this at great length or anything.
Lastly, tell me a random fact about yourself!
Speaking of the sacred books of Rowling: my senior year of high school, whenever I'd sign in late for school, I'd list my
reason for tardiness
as
Lord Voldemort
.
Thank you for answering my questions. :)
Thank you so much for asking them! This was a blast!
Emily Henry is full-time writer, proofreader, and donut connoisseur. She studied creative writing at Hope College and the New York Center for Art & Media Studies, and now spends most of her time in Cincinnati, Ohio, and the part of Kentucky just beneath it. She tweets @EmilyHenryWrite.