I have two reviews for you today! I intended to make them both mini reviews, but they turned out longer than expected...
Underwater by Marisa Reichardt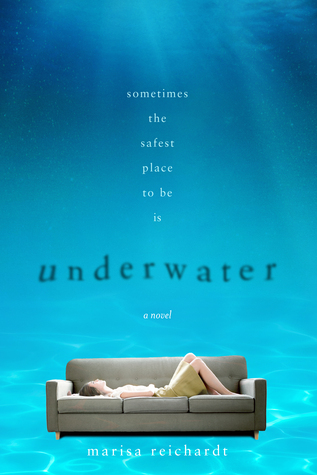 Morgan didn't mean to do anything wrong that day. Actually, she meant to do something right. But her kind act inadvertently played a role in a deadly tragedy. In order to move on, Morgan must learn to forgive—first someone who did something that might be unforgivable, and then, herself.

But Morgan can't move on. She can't even move beyond the front door of the apartment she shares with her mother and little brother. Morgan feels like she's underwater, unable to surface. Unable to see her friends. Unable to go to school.

When it seems Morgan can't hold her breath any longer, a new boy moves in next door. Evan reminds her of the salty ocean air and the rush she used to get from swimming. He might be just what she needs to help her reconnect with the world outside.

Underwater is a powerful, hopeful debut novel about redemption, recovery, and finding the strength it takes to face your past and move on.
*Releasing January 12th 2016 by Farrar, Straus, & Giroux*
Underwater was simply beautiful, though I can't place my finger on exactly why it is. The rhythm of the writing was wonderful (there were a lot of short sentences as paragraphs that worked with story and made it even better). The writing pulled at me, evoked a response. It was just . . . pretty. The story itself is wonderful too. It's about bravery and living and caring for others. It leaves an impact.

I could hear Morgan's voice loud and clear (or just clear since she had a quiet demeanor). I could easily picture the scenes because of that (and the writing). There was so much feeling in her POV. I could easily connect to her and really feel was she was feeling because it felt so vividly described.

There were a couple things that I didn't like. The story lost its momentum towards the end--or maybe that was just me that felt less connected than before--so I didn't get a strong last impression of this book. I felt a much bigger impact from the first three quarters of the book than I did the last one. I also wish I got to now the supporting characters on a deeper level because I don't have much at all to say about them. Ben was really sweet! It was nice to see how Morgan's relationship with her brother helped her push herself. And Evan was adorable. That's pretty much all I have to say about them.

Underwater is a must read for any fan of YA contemporary! It's relevant and beautifully written. It's well worth the read.
The Girl From Everywhere by Heidi Heilig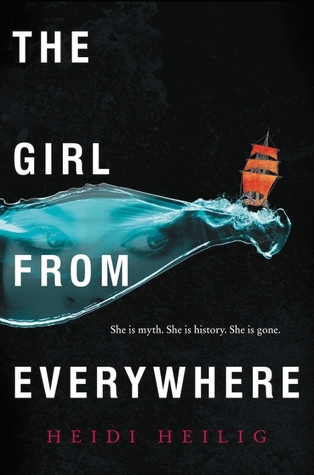 Heidi Heilig's debut teen fantasy sweeps from modern-day New York City to nineteenth-century Hawaii to places of myth and legend. Sixteen-year-old Nix has sailed across the globe and through centuries aboard her time-traveling father's ship. But when he gambles with her very existence, it all may be about to end. The Girl from Everywhere, the first of two books, will dazzle readers of Sabaa Tahir, Rae Carson, and Rachel Hartman.

Nix's life began in Honolulu in 1868. Since then she has traveled to mythic Scandinavia, a land from the tales of One Thousand and One Nights, modern-day New York City, and many more places both real and imagined. As long as he has a map, Nix's father can sail his ship, The Temptation, to any place, any time. But now he's uncovered the one map he's always sought—1868 Honolulu, before Nix's mother died in childbirth. Nix's life—her entire existence—is at stake. No one knows what will happen if her father changes the past. It could erase Nix's future, her dreams, her adventures . . . her connection with the charming Persian thief, Kash, who's been part of their crew for two years. If Nix helps her father reunite with the love of his life, it will cost her her own.

In The Girl from Everywhere, Heidi Heilig blends fantasy, history, and a modern sensibility with witty, fast-paced dialogue, breathless adventure, and enchanting romance.
*Releasing February 16th 2016 by Greenwillow Books*
In
The Girl From Everywhere
, fantasy and historical elements blended well together create an inventive and fun read about finding your where your home is. The world was so cool! It was both rich and fantastical, but there was a modern feel (even though the book was mostly set in the 19th century). The time travel/navigation was an interesting concept and the fact that the characters traveled in a boat made it even better. There were hints of romance and plenty of mischief and mayhem--even a dash of mystery--to keep the book enjoyable.
Sadly, there were some things that I didn't like about this book. I went through this one at a snail's pace because it felt so slooooowwwww. I had a tough time staying connected to it. The time travel (despite loving the concept) was a little confusing for me. I didn't always fully grasp what was happening in scenes either. There were just some things--the mythical elements especially--that I didn't
get
. If I did fully get what was happening, my rating probably would've been 4.5 or even 5 stars.
It also felt like there was a lot of loose ends in this book. Despite knowing there's going to be a sequel, I can't shake the feeling that there should've been less loose ends. I can't say much about this without spoiling, but there is one thing that I think I can be vague enough about. There was something that was shown or mentioned three or four times and then . . . it disappeared. And it was my Favorite. Thing. Of. The. Entire. Book. Well, it was until it became a loose end. Since I read an advanced copy, I'm hoping that was something that was changed (or at least handled better) in the final copy. Maybe it'll show up in the sequel. Who knows? It bugged me that there was this amazing thing that went
poof
--gone.
Despite the parts that I didn't like about this book, it really was a creative and fun read. The ideas, the world, the concepts--they were all very interesting, even if I didn't always understand them. I can see this appealing to a lot of readers!
How excited are you for these books to release??