Sunday Street Team is organized by Nori @ ReadWriteLove28. SST is a cross between a blog tour and street team for a couple different titles each month. As the title suggests, the posts go up on Sundays!

Go here to learn more about SST.
Jeff Garvin is one of the featured February authors! I'm excited to share my review of his book for SST. If you haven't looked into it yet, I definitely recommend doing so--soon. You want to read this one.☺ There's a giveaway at the end of the post that you may be interested in!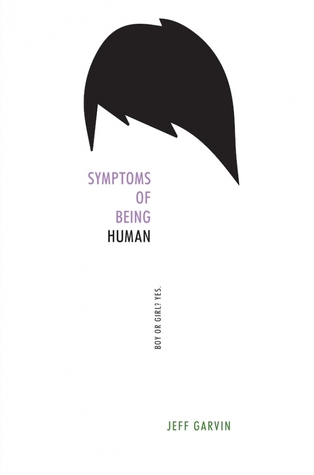 The first thing you're going to want to know about me is: Am I a boy, or am I a girl?

Riley Cavanaugh is many things: Punk rock. Snarky. Rebellious. And gender fluid. Some days Riley identifies as a boy, and others as a girl. The thing is . . . Riley isn't exactly out yet. And between starting a new school and having a congressman father running for reelection in uber-conservative Orange County, the pressure—media and otherwise—is building up in Riley's so-called "normal" life.

On the advice of a therapist, Riley starts an anonymous blog to vent those pent-up feelings and tell the truth of what it's REALLY like to be a gender-fluid teenager. But just as Riley's starting to settle in at school—even developing feelings for a mysterious outcast—the blog goes viral, and an unnamed commenter discovers Riley's real identity, threatening exposure. Riley must make a choice: walk away from what the blog has created—a lifeline, new friends, a cause to believe in—or stand up, come out, and risk everything.
Want a copy of the book?
Review
*I received an advanced copy of this book in exchange for an honest review.
Symptoms of Being Human
is a great contemporary that many readers will absolutely love! I read it almost too quickly, so I didn't get the story's full impact. (That's the only reason I'm giving this four stars instead of five). There are five big parts of the book that made it remarkable to me, though:
1)
Riley is a very brave and inspirational character. I loved seeing how Riley reacted to the rising awareness of the blog and the other non-blog related curveballs. It definitely wasn't an easy experience, but Riley seemed to do the right things. This is a character to be proud of. Riley is also super easy to relate to, whether you're gender fluid or not. Speaking of, yay for a gender fluid teen!
2)
The incorporation of the internet helped make this book even more relevant. It made it really realistic, too, because I felt like I knew Riley. I see a lot of people write about their experiences online and connect to other people going through the same thing all the time. Riley reminded me of those people that I admire. I definitely appreciated the blog posts and the messages. Along with seeing both the positive and negative parts of the internet effecting Riley, this part of the book made it even more relatable.
3)
This book showed the current state of society and how much it needs to change. We're obsessed with boxes and sorting people in order to made sense of them. (Riley wasn't immune to this.) I was reminded how rigid our society can be when it comes to gender. Toys, expectations, bathrooms, clothing: so much of it is labeled as either a "boy" thing or a "girl" thing. There's some gray area in between, but not as much as there should be.
4)
There are so many other great characters! Bec was pretty fun character. I loved seeing her support and understanding. Solo turned out to be a pleasant surprise (you'll have to read the book to find out what I mean). Riley's parents clearly loved their kid. Were they perfect? Of course not. But they were trying their best. Riley's therapist was great, too! There was something about her that made her feel real--that showed that she was also a person and not JUST a random therapist.
5)
This book is realistic. It sure wasn't dressed up to be all smiles and rainbows, but it also wasn't made out to be a depressing read. It just felt like a story that could belong to a real person. I don't know how else to explain it. It felt realistic. Simple as that.
Overall, I was really happy with how
Symptoms of Being Human
. It's such an important novel for many reasons. It features a gender fluid teen and incorporates the internet into the story. Plus, it's super easy to relate to.
Before becoming a novelist, Jeff Garvin acted on TV and toured as the lead singer of a rock band. He has a BFA in Film from Chapman University and lives in Southern California, surrounded by adorable, shedding beasts.
a Rafflecopter giveaway