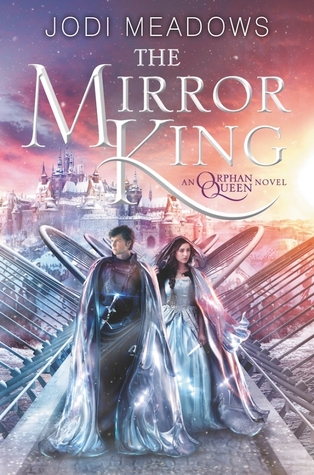 *I received a copy of this book in exchange for an honest review
The book description has spoilers for The Orphan Queen in it! My review is as spoiler free as I could make it.
Wilhelmina has a hundred enemies.

HER FRIENDS HAVE TURNED. After her identity is revealed during the Inundation, Princess Wilhelmina is kept prisoner by the Indigo Kingdom, with the Ospreys lost somewhere in the devastated city. When the Ospreys' leader emerges at the worst possible moment, leaving Wil's biggest ally on his deathbed, she must become Black Knife to set things right.

HER MAGIC IS UNCONTROLLABLE. Wil's power is to animate, not to give true life, but in the wraithland she commanded a cloud of wraith mist to save herself, and later ordered it solid. Now there is a living boy made of wraith—destructive and deadly, and willing to do anything for her.

HER HEART IS TORN. Though she's ready for her crown, declaring herself queen means war. Caught between what she wants and what is right, Wilhelmina realizes the throne might not even matter. Everyone thought the wraith was years off, but already it's destroying Indigo Kingdom villages. If she can't protect both kingdoms, soon there won't be a land to rule.

In this stunning conclusion to THE ORPHAN QUEEN, Jodi Meadows follows Wilhelmina's breathtaking and brave journey from orphaned criminal on the streets to magic-wielding queen..
*Releasing April 5th 2016 by Katherine Tegen Books*
I loved
The Mirror King
! It was as great as
The Orphan Queen
, which is always a good thing for duologies. This book made me WEEP. I wasn't expecting it to make me cry, but oh, did it do that.
This book seemed to be about choices--the freedom to make them and how they're part of being human. It was also about making mistakes and taking on responsibility before you're ready, but still trying the best you can. There was a lot of focus on the responsibilities of kings and queens in the book's world and what it meant to be good ones. I loved this focus because the characters were actively leading and making decisions instead of fighting or preparing to take on the power (which seems to happen in a lot of books with royal characters).
I'm not going to say much about the characters besides Wil (I'm afraid of unintentionally spoiling anyone if I do write about anyone else). She was a character to be proud of her! I loved seeing her take on responsibility and try her hardest. I also loved seeing her heart and compassion--how it persisted despite her position of power. I really enjoyed accompanying her on her journey and seeing her determination get her where she wanted to go.
The world was developed and explored more. There was more on wraiths! We get to see more of the impending loss of people and land to the incoming wraith in this book.
When it came to twists, many of them came as a surprise to me. I saw a couple coming, but that was okay. The other ones were shocking enough!
Where's the downside of this book? I didn't all caps LOVE this book. Sometimes, I felt like I should've been more captivated by what was going on in the story, but I wasn't into the book enough for that. My excitement level ran in in a straight line for most of the book. The exceptions were the shocking twists and the end. That's probably due to not being captivated enough.
Overall,
The Mirror King
was a great sequel to
The Orphan Queen.
It was very happy with how it ended (even though it bruised my heart) and I know many other fans of this series will be as well!