Sunday Street Team is organized by Nori @ ReadWriteLove28. SST is a cross between a blog tour and street team for a couple different titles each month. As the title suggests, the posts go up on Sundays!

Go here to learn more about SST.
One of the featured authors for March is Ava Jae, the author of
Beyond the Red
! I'm excited to share my review of her book with you today. It's a pretty good read. ☺ There's a giveaway at the end that you should check out too!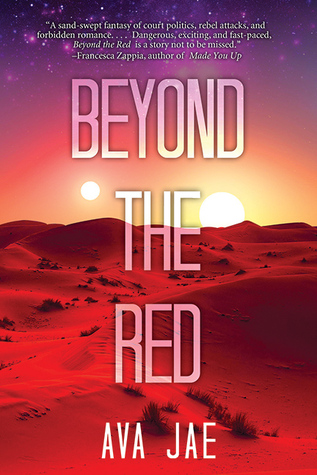 *I received a copy of this book in exchange for an honest review
Alien queen Kora has a problem as vast as the endless crimson deserts. She's the first female ruler of her territory in generations, but her people are rioting and call for her violent younger twin brother to take the throne. Despite assassination attempts, a mounting uprising of nomadic human rebels, and pressure to find a mate to help her rule, she's determined to protect her people from her brother's would-be tyrannical rule.





Eros is a rebel soldier hated by aliens and human alike for being a half-blood. Yet that doesn't stop him from defending his people, at least until Kora's soldiers raze his camp and take him captive. He's given an ultimatum: be an enslaved bodyguard to Kora, or be executed for his true identity—a secret kept even from him.





When Kora and Eros are framed for the attempted assassination of her betrothed, they flee. Their only chance of survival is to turn themselves into the high court, where revealing Eros's secret could mean a swift public execution. But when they uncover a violent plot to end the human insurgency, they must find a way to work together to prevent genocide.
*Released March 1st from Sky Pony Press*
Beyond the Red starts off with a bang and continues with a quick pace and many blows to the feels. I instantly knew the book was going to go well for me. I was able to connect to the characters pretty easily and get into the story. The world pulled me in and kept me intrigued. I could see the potential in the romance early on, which is always a great thing for me since I love romance. All in all, this book gave a very strong first impression!
The cover is perfect for the world, especially the landscape. It was easy to picture the red desert land that the characters described. There was a lot of color in this book, though it seemed to be mostly warm—just like the cover! I loved how rich the descriptions were! I especially liked the descriptions of the clothing because it helped reinforce that desert setting and rich feel.
The science fiction elements were pretty cool! There was some technology that I haven't seen very often (or at all), so it felt new and exciting. It didn't seem like the book was loaded with a ton of technology and sci-fi elements, though. They weren't subtle, but they didn't take over the book. They weren't heavy.
I wish there was a tad bit more development. Around 75% in, it felt like
something
was lacking. I think that had to do with the conflict between the aliens and humans. I didn't understand it quite as much as I was supposed to at that time, so some of the events near the end felt a little rushed and out of place. I would've loved to learn more about the history of the world! It would've made the conflict feel more solid.
If you're not into sci-fi with a lot of romance, then this book may not be for you. There's also a love triangle, which made me feel bitter at times because there's chemistry between Kora and each of the guys. It made me sad sometimes, but I still really liked it! Anyway, the romance is a big part of the book. There's a bigger focus on that than on court politics. I actually wish there was more on the politics and conflict between the different races and rulers (and those next in line to rule) because there was so much potential! I was fascinated with the world, but I didn't get enough of it.
Eros – My heart ached for this guy because his life was incredibly unfair. He wasn't accepted anywhere. It made me so upset! I really liked him. He was kinda awkward, especially when he was alone with Kora. He also had a strong sense of loyalty.
Kora – She was a badass! Even though she wasn't the best ruler, she really cared. She tried to be better. I loved how she could be a strong, intimidating fighter in one moment, but much warmer in the next. She was a badass with a range of emotions!
This book needs a sequel. There's a potential of one, but nothing is set yet. The way the book ended calls for more to the story and more to the world, and I would absolutely LOVE to see where Ava Jae does with the characters next. Speaking of the ending . . . it was intense and painful and so emotional. It pushed me down and kicked me in the feels while I was still down. It was definitely my favorite part of the book!
Overall, this book is a really good read! The world is fascinating and rich, though it could use more development. (If a sequel does happen, though, more of the world could be explored. *crosses fingers*) Quick paced with lots of action and a good dose of romance, Beyond the Red sure is an enjoyable science fiction that you should look into reading.
Ava Jae is a writer, an Assistant Editor at Entangled Publishing, and is represented by Louise Fury of The Bent Agency. Her YA Sci-Fi debut, BEYOND THE RED, is releasing March 2016 from Sky Pony Press. When she's not writing about kissing, superpowers, explosions, and aliens, you can find her with her nose buried in a book, nerding out over the latest X-Men news, or hanging out on her
blog
,
Twitter
,
Facebook
,
tumblr
,
Goodreads
,
Instagram
, or
YouTube channel
.
a Rafflecopter giveaway