I'm really excited to participate in another readathon this month! I read some books for the Bookish Bingo Readathon and the #TBRTakedown, and the
Spring Cleaning Readathon
is happening this weekend. They've all been really helpful in helping me stay on track for ARC April and my other reading plans for this month, so this next readathon fits in perfectly!
The Author-A-Thon Readathon is hosted by
Joanna
and
Sam (Thoughts on Tomes)
and will run from 12am your time zone on 4/18 to 11:59pm your time zone on 4/24. It's focused around the authors, as the title suggests! You can approach this in quite a few different ways, like reading all of one author's books or following the challenges given. It seems like it'll mostly take place on Twitter, so be sure to check out the @AuthorAThon account. I'm including Sam's announcement video below if you want to learn more!
I'm going to stick to most of the challenges. I'm also aiming to read mainly ARCs or books I got for review since they are my highest priority right now.
1- Read a book by one of your favorite authors
So. I received an e-arc of Traffick. And it came out in November. (I have mentioned that I'm behind in review copies, haven't I?) Anyway, I have a hardcover of this one and will be reading that instead. Ellen Hopkins is an absolutely amazing author, so I'm sure I'll love this book. :)
2- Read a new-to-you author
I have quite a few options for this, so I'll let my mood choose which one I'll read.
3- Give an author a second chance
I really liked
Reboot
, but felt meh about
Rebel
, so my most recent impression of Amy Tintera's writing isn't great. I recently heard some pretty good things about
Ruined
, though! I guess I'm giving the author a third chance?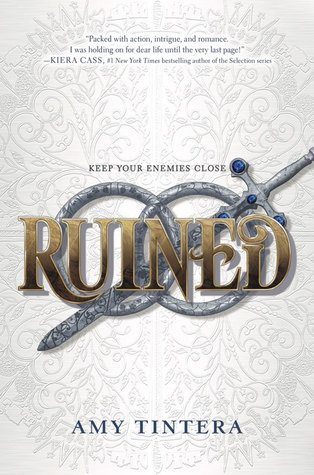 4- Read a debut author (2015 or 2016)
Again, I have a lot of options! I won't get to them all, but I would love to read one of these during the readathon.
5- Read a book written by more than one author
Only one of my ARCs fits this category, but I really want to read a hardcover since it's way back on my backlist. So, I'm going with a manga instead! Tsugumi Ohba and Takeshi Obata are the authors are the authors of Death Note.

6- Read a book from an author who is from a different continent than you are
I have one ARC (
The Vanishing Throne
by Elizabeth May) that qualifies for this and I'm reading it this weekend, so I'm going to count Death Note for this one as well. I'm in the US and the authors are from Japan!
That's it for me! Are you planning to participate in this readathon? Have you read any of the books from my TBR?