Sunday Street Team is organized by Nori @ ReadWriteLove28. SST is a cross between a blog tour and street team for a couple different titles each month. As the title suggests, the posts go up on Sundays!

Go here to learn more about SST.
S. Usher Evans is one of the featured authors for April! I'm excited to share my review for
The Island
today. :) I binge read the Razia series earlier this year and I'm glad that the Madion War trilogy is shaping up to be another great series!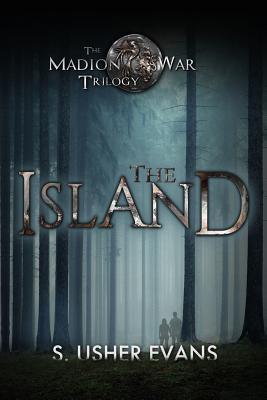 *I received an advanced copy of this book in exchange for an honest review
Prince Galian is third in line to the throne, but prefers his place as a resident at the Royal Kylaen Hospital. When his father urges him to join the military to help reclaim their colony, Galian is forced to put aside his oath to Do No Harm and fight a war he does not believe in.

Across the great Madion Sea, Captain Theo Kallistrate dreams of a day when she is no longer bound by conscription to fight for her country's independence. But when the Kylaens threaten, honor and duty call her to the front lines to fight off the oppressors.

When an air skirmish goes wrong, both Theo and Galian crash on a remote island hundreds of miles from either nation. Grievously injured, Theo must rely on Galian's medical expertise, and Galian must rely on Theo's survival skills, to live another day in a harsh and unforgiving terrain.

Can they put aside their differences long enough to survive? Or will the war that brought them to the island tear them apart?
*Releasing April 26th from Sun's Golden Ray Publishing*
The Island is about a soldier and a prince from opposite sides of a war that end up stranded on the same island together and have to work together to survive. It had a large focus on the romance, but the conflict in this series' world had a good amount of development to it.
I really like the conflict--how the war was so much uglier than Galian expected and even uglier than Theo did too. It was a deep, ugly feud between a powerful country and a rebelling colony. There was deception on both sides, though it was MUCH more harmful on one side. While this book has a large focus on two enemies getting to know each other past their backgrounds and falling in love with one another as they are, there's a lot to the war. There's not much direct contact with it since the island is the main setting and there's only so much of a war you can show when you're only showcasing two stranded people. You get to know how Galian and Theo feel about the conflict and how the time on the island affects both of their attitudes.
I spent a quite a few moments glaring at Galian for being so idiotic. I couldn't
not
like him because he was funny and kind (outside of the war stuff), but he was clearly ignorant of how the war was affecting the Ravens. He was a prince, and definitely not a very knowledgeable or sensitive one. He saved Theo's life and looked after her legs--putting his doctor skills to good use--but then he shrugged off the anger and fury and hurt Theo felt because of what his country is doing. Thankfully, his time on the island (and with Theo) was an eye opening one, so I spent more time being happy with him than glaring at him for being stupid.
Theo was a very tough character. She fueled a lot of the hate in the beginning because she was way more affected by the war than the prince was. She didn't pull back her punches, though it was interesting to see her nicer side as she warmed up to the Galian.
The romance was a forbidden, hate to love kind. Things were instantly intense between the two, though it was an intense hatred in the beginning. There was so much so much bickering! It was funny at times because they could get immature, but most of what they fought about was really serious. As they got to know each other and learned why they had their respective stances on the war, the friendship and romance built and turned their relationship into a passionate one. I really liked their chemistry!
Now, what lacked for me? I obviously really liked Theo and Galian and their romance, but I didn't LOVE them. I rooted for them, but I didn't ship them. I didn't connect to them enough to call them amazing characters. (I feel like I compared them to the Razia characters a bit too much...) The characters are my favorite part of books, so I was hoping to connecting a little more to the ones in this book.
Overall, The Island was a great start to the Madion War series! I'm really looking forward to the sequel. I feel like the war will have a bigger focus and things will get more intense. The romance should be interesting to follow as well. If you're looking for a quick read featuring a great hate to love romance and an interesting war, I suggest picking up this book!
S. Usher Evans is an author, blogger, and witty banter aficionado. Born in Pensacola, Florida, she left the sleepy town behind for the fast-paced world of Washington, D.C.. There, she somehow landed jobs with BBC, Discovery Channel, and National Geographic Television before finally settling into a "real job" as an IT consultant. After a quarter life crisis at age 27, she decided consulting was for the birds and rekindled a childhood passion for writing novels. She sold everything she owned and moved back to Pensacola, where she currently resides with her two dogs, Zoe and Mr. Biscuit.
Evans is the author of the Razia series and Empath, both published by Sun's Golden Ray Publishing.
Website
|
Blog
|
Goodreads
|
Twitter
|
Facebook