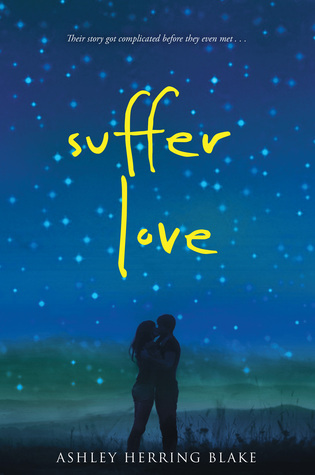 I picked this books up because...well, it's a YA contemporary romance. It seemed right up my alley!
*I received an advanced copy in exchange for an honest review.
"Just let it go."





That's what everyone keeps telling Hadley St. Clair after she learns that her father cheated on her mother. But Hadley doesn't want to let it go. She wants to be angry and she wants everyone in her life—her dad most of all—to leave her alone.





Sam Bennett and his family have had their share of drama too. Still reeling from a move to a new town and his parents' recent divorce, Sam is hoping that he can coast through senior year and then move on to hassle-free, parent-free life in college. He isn't looking for a relationship…that is, until he sees Hadley for the first time.





Hadley and Sam's connection is undeniable, but Sam has a secret that could ruin everything. Should he follow his heart or tell the truth?
*Released May 3rd 2016 by HMH Books for Young Readers*
Suffer Love
is about a lot of things! The difference between someone who has lied and a liar. Holding on...and letting go. How letting go is SO TOUGH. The theme that spoke to me the most dealt with looking at the whys: there's more behind lies and deceit than the act itself--there's always reasons behind them, a way to understand why someone made certain decisions.
Hadley and Sam were a lovely, lovely couple. There was so much ease between the two when their parents weren't getting in the way--when it was just them, no last names or pasts tangling things up. And flirting!! I loved that.
Both Harley and Sam had problems letting go: her with her dad's actions and the current state of her family and Sam with his own actions and how he saw himself. Hadley's side of the story interested me the most because she was stubborn and unforgiving. She was hurt. She was angry. And she dwelled on that instead of moving on. I tend to really like reading about characters like her. I can't say I have much to say about Sam that isn't connected to the romance... He was a good brother? I loved seeing how he was with Livy. He didn't leave a big impression on me as an individual.
Livy was WONDERFUL. She's really hard not to like because she's so sweet and young (but not super young). Her presence and the role she had in the story was one of my favorite parts of the whole book!
I liked how the family aspects were handled. There was a LOT of anger in both families, but there were some positive and hopeful family moments that left a strong impact on the story.
My one complaint is that it was just another contemporary romance. I didn't find that much that stood out in a super special way. The situation with the parents was a new one for me and there were a few things that stood out, but the book itself isn't fresh. I'm a sucker for contemporary romance, so this didn't affect how much I enjoyed reading this (sooooo addicting) by a lot, but it did feel like it was missing that something extra to push this contemporary from really good to AMAZING. Special element separate a four star from a five star read for me--from a book I would recommend among a crowd of similar ones and a book I would rave about on its own. Some of the ending events came
close
, but for the most part, that something special was missing.
Suffer Love
is a hopeful book. It's about the aftermath of loved ones poor decisions and learning to let go and move forward. It has a lot of heart in it and it made me feel good to read it!