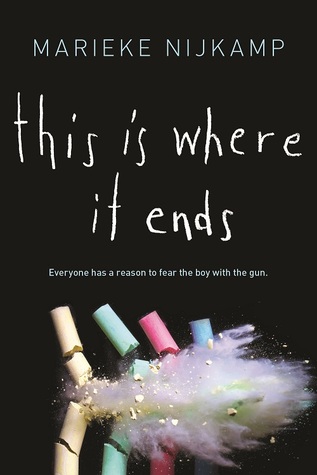 Usually I would post my weekly update, but I'm postponing that so I can include a small wrap up for May! So, I have a review instead. This is Where it Ends slightly intimidated me because I thought it would destroy me, but...it didn't end up doing that.
*I received an advanced copy in exchange for an honest review.
10:00 a.m. The principal of Opportunity High School finishes her speech, welcoming the entire student body to a new semester and encouraging them to excel and achieve.

10:02 a.m. The students get up to leave the auditorium for their next class.

10:03 a.m. The auditorium doors won't open.

10:05 a.m. Someone starts shooting.



Told from four different perspectives over the span of fifty-four harrowing minutes, terror reigns as one student's calculated revenge turns into the ultimate game of survival.
*Released January 5th 2016 by Sourcebooks Fire*
Sadly,
This is Where it Ends
let me down. I had high expectations! There was a good number of things that I liked, but the issues I had weighed heavily on my overall impression of the novel.
I'll start with what I liked!
- the solidarity among the people of the town
- the importance and relevance of the story
- the characters themselves (my heart went out to them)
- the
idea
of the flashbacks to develop the characters (though the execution didn't work for me)
- a part near the end that made me want to cry hard (though tears never formed)
- the powerful ending
That seems like a pretty good list, right? But I still had so many issues with what I was reading.
First, the flashbacks. I love flashbacks!! They're one of my favorite literary devices. When they don't work for me, I feel a little...betrayed. Why couldn't they work the way they usually do?? With this book, the frequency of the flashbacks got in the way. Not only that, but there was also a lot of moments where characters suddenly had this internal monologue (so, not a flashback but a moment where they thought about certain characters or parts of their life). This was set in a high-paced, dangerous situation taking place over 54 minutes and all of flashbacks and internal monologue moments drew the focus away from the event and interrupted the pacing, intensity, and rhythm of the story. And with the frequency, I had trouble staying connected for long before a flashback would happen and leave me disconnected again.
Second, I felt like there should've been MORE. It featured some solidarity in the community, though it didn't feel like it was really ABOUT that. I read this shortly after
Exit, Pursued by a Bear
by E.K. Johnston (which is great, by the way) and that features a different tough subject: rape. But I don't describe that book as one about rape. It's much more than that, though. It's a book about the love and support you can find from the people around you after something horrible happens. And I guess I like books better when I see
how
a horrible event changes and affects people instead of focusing mainly on the past events and what happened during the event. (I hope that makes sense.) For me,
This is Where it Ends
was a book about a shooting and very little else. Books with "very little else" aren't my thing. It could've been about solidarity during a difficult time and destroyed relationships, but there wasn't enough to make me think that.
Third, this didn't leave a large impact on me. I hate saying that about a book like this! The event was obviously horrible and it reminded me of all the times I've seen news about school shootings, but as a BOOK, it didn't...do anything. Was it eye-opening? Could it change my worldview? Will it linger with me? No, no, and no. For something so relevant, this didn't affect my worldview because, unfortunately, I'm familiar with this topic from learning about it in real life. But I feel like it had the potential to change how I see things. This book could've had a bigger presence--had a statement. Reflected and commented on society more.
With all of that said,
This is Where it Ends
turned out to be a disappointment. I was expecting to feel strongly impacted by this story and I simply wasn't. I didn't even cry. I ALWAYS CRY WHILE READING HARD-HITTING BOOKS. A lot of other books make me cry, too! Even though I wanted to at one part, I could hold back the tears with ease. That's the biggest that this book didn't work for me. I really wish this left a larger impact.