I'm excited to share my stop of the
Run
tour with you! Kody Keplinger is one of my favorite authors, so I couldn't resist signing up for this tour and helping to spread the word about her new book! Thank you to Hannah for hosting and to Scholastic for sending me the book. :)
About Run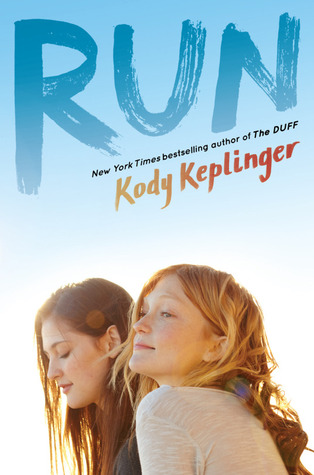 *I received an advanced copy in exchange for an honest review.
Bo Dickinson is a girl with a wild reputation, a deadbeat dad, and a mama who's not exactly sober most of the time. Everyone in town knows the Dickinsons are a bad lot, but Bo doesn't care what anyone thinks.

Agnes Atwood has never gone on a date, never even stayed out past ten, and never broken any of her parents' overbearing rules. Rules that are meant to protect their legally blind daughter -- protect her from what, Agnes isn't quite sure.

Despite everything, Bo and Agnes become best friends. And it's the sort of friendship that runs truer and deeper than anything else.

So when Bo shows up in the middle of the night, with police sirens wailing in the distance, desperate to get out of town, Agnes doesn't hesitate to take off with her. But running away and not getting caught will require stealing a car, tracking down Bo's dad, staying ahead of the authorities, and -- worst of all -- confronting some ugly secrets.
*Releasing January 28th 2016 from Scholastic*
Run tells the story of the love and acceptance that makes up strong friendships! While I didn't LOVE this book like Kody Keplinger's other YA releases, I really liked its themes and focuses as well as the character development of both heroines. I haven't read a lot of books that focus so much on friendship without romance being a spotlight (there was some romance in this book, but it was on the sideline).
There wasn't much to the story in terms of plot. It alternated between Bo's POV as the heroines were running away and Agnes' POV as the two girls became close friends. How they become friends and the hurdles they overcome pretty much IS the plot. I really liked how the story was set up. The chapters were pretty short, which made the pace feel quicker.
The characters are the star of this book. Bo was a bisexual girl with a bad reputation simply because of her family name. She seemed to have a hard time getting close to others. Agnes was a legally blind girl who was sheltered by her family and was thought to be sweet by most people. There's a small focus on religion and church for her. She was also much, MUCH more willing to get close to friends than Bo was. I didn't connect very well to either of the characters, but I really liked the character growth they went through. Early on in the book, I thought of Agnes as meek, but I quickly changed my mind about that as she started standing up for herself more and going after what she wanted. Bo's growth was a bit less apparent to me, but I feel that getting close to Agnes was a way of growing for her. I really liked the acceptance between the two. They had honest, open conversations about that as well! Those conversations were key in making their bond feel strong.
The themes were pretty good. Running away was obviously a big one. Not only did the character run away, but most of the running was more of the emotional kind. Distancing yourself from people in order to guard yourself is a type of running that I saw. Earlier on in the story, I saw themes of related to stereotyping and assumptions. The Dickinsons had a bad reputation, so people made a LOT of assumptions about Bo and her sex life. And then friendship and the lengths people go to in the name of it was another one. Agnes especially did so much in order to keep her friendship with Bo alive!
There's really not much more I have to say about this book. It may have been because I wasn't in a great reading mood when I read it, but I didn't feel immersed in the story. I didn't get sucked in and I didn't form a strong connection to the characters (despite finding them well written).
Overall, Run is a decent contemporary about two girls and the way they made each other better through their strong friendship. If you're looking for a quick read with a much larger focus on friendship than romance, you may want to look into reading this!
About Kody Keplinger
K
ody Keplinger was born and raised in small town western Kentucky, where she began her writing career after penning the
New York Times
and
USA Today
bestseller,
The DUFF
, at age seventeen.
The DUFF
, now a major motion picture, was chosen as an YALSA Top Ten Quick Pick for Reluctant Young Readers and a Romantic Times Top Pick. Kody has since written other books for both young adult and middle grade readers. When she isn't writing, Kody is posting about fashion and body positivity on her Instagram, chatting about her favorite TV shows on Twitter, or making videos for her YouTube account. Kody is also the co-founder of
Disability in KidLit
and a teacher at the Gotham Writers Workshops in NYC.