Sunday Street Team is organized by Nori @ ReadWriteLove28. SST is a cross between a blog tour and street team for a couple different titles each month. As the title suggests, the posts go up on Sundays!

Go here to learn more about SST.
Danika Stone is one of this month's featured authors! I signed up to review her book because it sounded relateable and fun, which it turned out to be. :)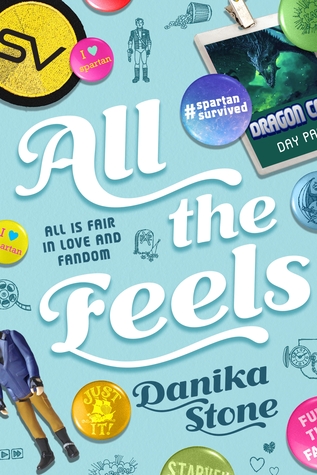 *I received an advanced copy in exchange for an honest review.
College freshman Liv is more than just a fangirl: The Starveil movies are her life… So, when her favorite character, Captain Matt Spartan, is killed off at the end of the last movie, Liv Just. Can't. Deal.

Tired of sitting in her room sobbing, Liv decides to launch an online campaign to bring her beloved hero back to life. With the help of her best friend, Xander, actor and steampunk cosplayer extraordinaire, she creates #SpartanSurvived, a campaign to ignite the fandom. But as her online life succeeds beyond her wildest dreams, Liv is forced to balance that with the pressures of school, her mother's disapproval, and her (mostly nonexistent and entirely traumatic) romantic life. A trip to DragonCon with Xander might be exactly what she needs to figure out what she really wants.
*Released June 7th 2016 from Swoon Reads*
My Thoughts
I started this book side-eyeing the dialogue and finding everything flat and ended it squealing over how great the book was. Yes. Squealing. I'm quite surprised--and happy!--that my reactions turned a 180 by the end. I really enjoyed reading this!
One of my favorite parts was finding a new pair of characters to ship. There wasn't that much romance, but there was a certain connection between Xander and Liv that made me immediately start hoping something would happen with them way later in the book. I say later on because Xander did have a girlfriend. The possibility of a romance felt slim because the characters were just best friends. Though Liv was obviously jealous, there wasn't much acknowledgement that anything would ever happen between the two. Plus, this book took place over several months and there were possibilities for another love interest.
Liv and Xander were so natural with each other. They had this EASE between them that I always adore seeing between close friends. There was joking, pretend flirting, real flirting, real talk. They completely accepted and supported each other. Both pushed one another to step out of their comfort zones, too. Xander did the most encouraging, but Live managed to do the same to him a few times.
XANDER. This guy. I don't call many characters "book boyfriends," but this is the kind of character that makes me forget about that. I personally loved that he called Live "dearie." He was also so. Good. At. Flirting. I loved that he dressed in steampunk garb all the time (I love steampunk clothing, though I never dress in it). He was also bisexual, which I want to point out because I don't see enough bi characters in YA. He always had Liv's back, even though he wasn't a fan of her favorite show. He was there for her saddest fangirl moments and her happiest. He helped her push herself. I really loved his character! I do wish he was a bit more developed, though. I wanted to learn more about him.
Liv was great as well! She felt a lot of anxiety through many of the events and she is as reluctant to try a few things (like ask a guy out on a date), but she pushed through that and started going out of her comfort zone. She seemed to open up more as time went on. Her confidence grew as well.
Dragon Con was amazing. It made me really, really want to meet the up with online friends at an event (preferably bookish since that's where I would connect to people the most). My closest experience has been leadership conferences and this book made me miss the energy that comes from being in a large group of peoe attending an event. (That's how I feel anyway, even if I do get nervous and quitet. Also, I felt that energy among people I didn't even connect to well. I can't even imagine how awesome it would be in a group of fellow READERS. But anyway. I digress.)
I mentioned that the beginning was rough, right? Oh man, I almost forgot. My earliest impressions weren't pretty. I thought I would end up DNFing! The tone irked me and the dialogue felt flat. Liv didn't seem like a character I would connect with well. As I kept reading, though, those misgivings...faded away? I couldn't stop reading! Liv and Xander's interactions pulled me in and had me hooked. I guess I got swept away in all the feels (haha, I'm not sorry)!
All the Feels was a quick read that may put a huge smile on your face. Hilarious, sweet, and oh so wonderfully nerdy, this is the perfect book to read when you want something happy.
About Danika Stone
Danika Stone is an author, artist, and educator who discovered a passion for writing fiction while in the throes of her Masters thesis. A self-declared bibliophile, Danika now writes novels for both adults (The Intaglio Series and Ctrl Z) and teens (All the Feels). When not writing, Danika can be found hiking in the Rockies, planning grand adventures, and spending far too much time online. She lives with her husband, three sons, and a houseful of imaginary characters in a windy corner of Alberta, Canada.
Ms. Stone is represented by Morty Mint of Mint Literary Agency.
a Rafflecopter giveaway