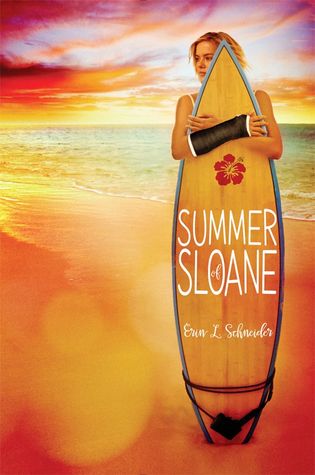 I've been sitting on my review notes for this one for a loooonnnnnggg time. But hey, it's summer (well, in my part of the world) and this is a good summer read! I initially put it in my post about
The Books I've Had Trouble Reviewing, but I had so many notes that I had to make a separate post. That's why this one is formatted similarly to those short reviews.
*I received an advanced copy in exchange for an honest review.
Warm Hawaiian sun. Lazy beach days. Flirty texts with her boyfriend back in Seattle.

These are the things seventeen-year-old Sloane McIntyre pictured when she imagined the summer she'd be spending at her mom's home in Hawaii with her twin brother, Penn. Instead, after learning an unthinkable secret about her boyfriend, Tyler, and best friend, Mick, all she has is a fractured hand and a completely shattered heart.

Once she arrives in Honolulu, though, Sloane hopes that Hawaii might just be the escape she needs. With beach bonfires, old friends, exotic food, and the wonders of a waterproof cast, there's no reason Sloane shouldn't enjoy her summer. And when she meets Finn McAllister, the handsome son of a hotel magnate who doesn't always play by the rules, she knows he's the perfect distraction from everything that's so wrong back home.

But it turns out a measly ocean isn't nearly enough to stop all the emails, texts, and voicemails from her ex-boyfriend and ex-best friend, desperate to explain away their betrayal. And as her casual connection with Finn grows deeper, Sloane's carefree summer might not be as easy to find as she'd hoped. Weighing years of history with Mick and Tyler against their deception, and the delicate possibility of new love, Sloane must decide when to forgive, and when to live for herself.
*Released May 3rd 2016 by Disney-Hyperion*
The Good: Gaahhhh, how do I put my feelings into words? It...made me FEEL. It was light sweet and serious and dramatic all at once. It was a realistic story. It made me feel sad and empty at one moment, but full and satisfied the next. I was able to tune in to Sloane's emotions well and that made it so easy to connect to her story. I couldn't relate, but I sure felt for her.
This book was summery and quick, but not without its tangled up feelings. There was bitterness, confusion, a touch of grief, sadness, regret, anger, happiness--it was a myriad of emotions. It was a summer read, but it wasn't fluffy. It was also a contemporary that had a lot of meaning to it. Sloane's summer was uplifting because she did things for HER.
I found a lot of themes and focuses in this story:
Mistakes don't define an entire person

Don't let someone else's mistakes ruin you

Forgive, even if you can't go back to that person

The murkiness of cheating and betrayal and mistakes

Processing and taking in a broken friendship and relationship and trying to figure out if you can let someone back into your life

Taking responsibility for your actions and how we respond to other people's actions

About doing what is right for *you*--treating yourself, doing what you need to do to get over something big

Living for yourself--and how that can include some level of forgiveness. But that doesn't mean things will stay the same.
The family focus was so good!! I liked seeing Sloane's relationship with her brother, mother, and father each showcased. I liked seeing how good of a brother Finn was to Luce.
The romance was a big hit for me . . . for the most part. I didn't like it nearly as much near the end.
The Meh: So much drama--it made me so upset towards the end -_- But the drama (mostly) made sense as I could seeing the events happening in real life. Real life holds a ton of communication errors and mistakes, no matter how much we try to avoid them.
The Bad: Ending events didn't sit right with me. It felt like certain things were resolved too quickly to be a part of Sloane's positive character growth.
****Spoilery Bits START****
I really, really don't like near-death-changes everything trope and it irked me to see it in this book.
Almost. Every. Single. Important. Guy. In. Sloane's. Life. Cheated. Or couldn't remember if they did because they were so DRUNK. And yes, there were a ton of apologies and "I made a huge mistake" moments and they weren't let off easily, per se, but the sheer amount of cheating that happened made me roll my eyes. What annoyed me the most, though, is that out of everyone who cheated or were affected, Mick got the WORST treatment. She lost her baby, her future career, her friends--she lost SO FREAKIN' MUCH and it didn't even feel like a natural part of the story. It felt like a plot point to teach Sloane a lesson and to help her friendship with TYLER grow more. It doesn't help that her role in the story felt like it had so many loose ends. She did make some horrible decisions and not for the right reasons, but I still would've liked to see more from her somehow--anything to wrap up her part of the story.



****Spoilery Bits END****
Overall, this book was lovely. Reading it reminded me how lost I can get in Katie McGarry's, Stephanie Perkins', and Simone Elkeles' books, which is a pretty good thing. I wish I felt better about how certain characters' roles were wrapped up, but for the most part, I really enjoyed reading Summer of Sloane.
Rating: 4 out of 5 stars
Happy Reading! ~ Kaitlin 😃