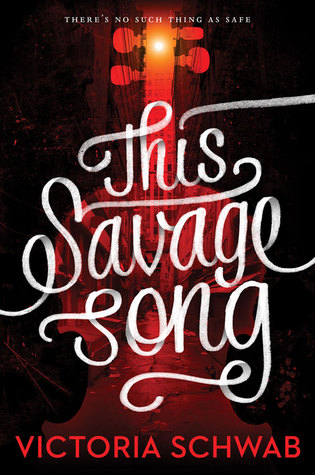 Most of you have probably heard of this book by now, right? It's Victoria Schwab! Of course you have! I liked this book, but it's my least favorite Schwab book so far. The others I've read are The Archived, ADSOM, and AGOS.
*I received an advanced copy in exchange for an honest review.
There's no such thing as safe in a city at war, a city overrun with monsters. In this dark urban fantasy from author Victoria Schwab, a young woman and a young man must choose whether to become heroes or villains—and friends or enemies—with the future of their home at stake. The first of two books.

Kate Harker and August Flynn are the heirs to a divided city—a city where the violence has begun to breed actual monsters. All Kate wants is to be as ruthless as her father, who lets the monsters roam free and makes the humans pay for his protection. All August wants is to be human, as good-hearted as his own father, to play a bigger role in protecting the innocent—but he's one of the monsters. One who can steal a soul with a simple strain of music. When the chance arises to keep an eye on Kate, who's just been kicked out of her sixth boarding school and returned home, August jumps at it. But Kate discovers August's secret, and after a failed assassination attempt the pair must flee for their lives.
*Released July 5th 2016 from Greenwillow Books*
The first 60 percent:
I really liked getting to know the characters and the monstrous world they lived in. Going into the book without remembering much about what it was about may not have been a good thing because I did start out really confused about the world. It took some time for me to realize that the place used to be the US. Without looking up the genre, I'm thinking it's a futuristic/alternate universe of our own. The concept with the monsters with their different types and origins and hunting styles (all of which are a huge influence in the world) immediately intrigued me. I especially liked the idea of Sunai feeding on tainted souls with the help of their own unique songs.
The characters left strong first impressions. Kate was bold and a little...scary. August was almost the opposite with his gentler personality, though he had his monster side that he couldn't ignore. August's siblings were pretty interesting! They were so different from each other and August, making their respective personalities memorable.
There was some nice bits of humor! And I do mean bits because . . . well, in a world like theirs, there's not much for the characters to laugh about.
The last 40 percent:
This is where the action started! Or, well, it's where danger was the highest. And . . . I got bored. My last impression of this book wasn't that great, sadly! I should've been really into everything and been shocked at some of the twists and been very WORRIED about the characters, but I wasn't. I mean, sure, I was a little worried for the characters, but that was when the action first began. Anyway, my interest started dropping in the third "verse" (what each part is called). The story didn't feel as fresh and exciting as it did in the beginning. Despite being based on very interesting concepts, the last 40 percent didn't feel like anything special. That was my last impression when I read the ending.
Also, this book is partially about the darkness that lies within humanity and the society we have built--how endless it is. This is a GREAT theme, but (at 75%) I felt like I was more impacted by the fact that this theme existed in this book than how it was incorporated into the story. I wanted the theme to be stronger, more built upon. Instead it felt a little flat. I wrote notes about this before I finished the book, but the last quarter didn't change my mind on this subject.
Will I Read the Sequel?
Definitely! I want to know what happens next.
Overall,
This Savage Song
had a great if slightly confusing start, but as the characters found themselves in more dangerous situations, I found myself wanting to just get through the book so I could move on to a different one. I read this at a time when I felt slightly fatigued over similar YA storylines, which probably had a big impact on my reaction to the last 40 percent.
Rating: 3 out of 5 stars
Discussion Prompt
My poor last impression of this book weighed down my enjoyment and has (now that's it's been some time since I read it and wrote my review) not remained memorable. So, I'm wondering...
How does a poor last impression of a book affect your enjoyment of a it as a whole?
Happy Reading! ~ Kaitlin ☺