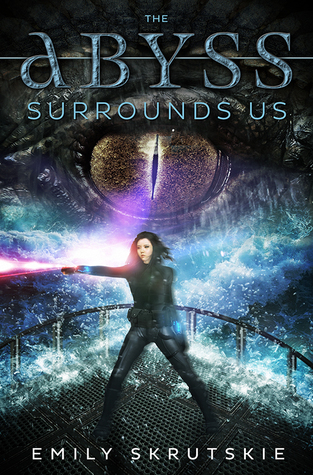 What do they say? Better late than never? I finally read my e-arc for this one and I'm really excited to say that I really liked reading it! The Abyss Surrounds Us is well loved by many of its readers for good reason.
*I received an advanced copy in exchange for an honest review.
For Cassandra Leung, bossing around sea monsters is just the family business. She's been a Reckoner trainer-in-training ever since she could walk, raising the genetically-engineered beasts to defend ships as they cross the pirate-infested NeoPacific. But when the pirate queen Santa Elena swoops in on Cas's first solo mission and snatches her from the bloodstained decks, Cas's dream of being a full-time trainer seems dead in the water.

There's no time to mourn. Waiting for her on the pirate ship is an unhatched Reckoner pup. Santa Elena wants to take back the seas with a monster of her own, and she needs a proper trainer to do it. She orders Cas to raise the pup, make sure he imprints on her ship, and, when the time comes, teach him to fight for the pirates. If Cas fails, her blood will be the next to paint the sea.

But Cas has fought pirates her entire life. And she's not about to stop.
*Released February 8th 2016 from Flux*
Let's just say that
The Abyss Surrounds Us
is AWESOME. Themes, characters, monsters, action, romance: everything was awesome. Just take my word--and pretty much everyone else's--for it and read the book. Okay?
Oh fine, I'll elaborate for those of you who need to know why.
First of all, the shippy feels. I hadn't read anything with a GREAT romance for about a month, and as someone who loves her romances and ships, that's a long time to go without a good one. Cas and Swift had the perfect amount of chemistry considering how they started out as enemies and definitely not on equal footing. The romance between the two girls was a slow burn and only resulted in a handful of tender moments. The thing about a great slow burn, though, is that it makes each romantic instance so much more exciting and sweet. They were an unlikely pair because of their positions on the Minnow, but they fit so well together. The romance isn't a large focus--I mean, it's not even referred to in the synopsis--but you can expect a good romance going into this book! If you're worried about unequal footing between Cas and Swift, it IS addressed. It was a big reason not many romantic moments happened, which was refreshing. I don't see many characters resist getting involved with someone equal footing is established. That made the pairing even more shippable for me!
Sea monsters and pirate life were the stars of the story. It made for an exciting and intense experience because both are clearly dangerous. Cas was brought onto the Minnow to train a Reckoner from birth and make him aggressive quickly. Those things are HUGE. They can split a ship in two and destroy whatever they're signaled to, so taming one in an uncontrolled environment is a huge risk to the trainer. Then there were the pirates. Or one pirate in particular. I don't know about you, but I find the sound of "pirate queen Santa Elena" intimidating. She was smart, cunning, and ruthless with a fierce, protective motherly instinct (she had a kid). She was an awesome but scary character to meet and I really like that in a villain.
The protagonist was a great character as well. She was thrust into this new environment among her enemies and forced to train a monster to go against her own people. We see this situation in a lot of books and I love it! In this case, it brought up some questions about ethics. How much can you really justify killing a whole ship of people? Was Cas any better than the pirates that she hated? Was she a hypocrite for hating the pirates for raising their own monster and using it for the same reasons as her family did? Along with pondering those questions, it was interesting to see how Cas changed in response to the stress she was put under and to some horrible actions she had to take in order to save herself and Swift.
The world these characters lived in was definitely an interesting one, though there was a moment when it hit me that I knew so little about it. I feel like I was thrown in with just the basic information and not told the whys. I want to say that I wished for more world building, but with all the excitement and pirate life and danger and training, it wasn't THAT big of a deal. I'm definitely hoping to learn more about the world in the sequel, but
The Abyss Surrounds Us
did fine without a lot of details.
With so much positivity in this review, one would expect a 5 star rating instead of a 4 star, but my enjoyment level didn't reach quite as high as my favorite reads of the year. I got pretty invested in the story, but I wasn't glued to the pages.
Overall,
The Abyss Surrounds Us
is a must read for anyone looking for a badass book with F/F romance, pirates, sea monsters, and lots of danger! And let me repeat what I said at the beginning: it's AWESOME.
Happy Reading! ~ Kaitlin ☺