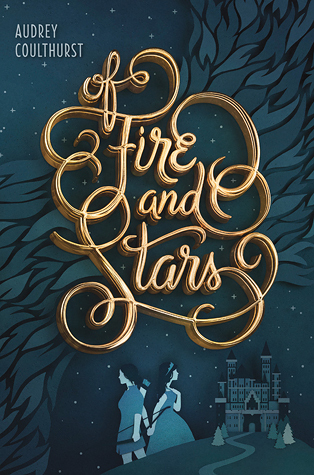 Whoa, it's a review for a fall release! And it's August! I rarely ever post reviews this early, but considering my low rating for this and I wasn't asked to post a review in a certain time frame, I'm going to go ahead and share my thoughts on this.
*I received an advanced copy in exchange for an honest review.
Betrothed since childhood to the prince of Mynaria, Princess Dennaleia has always known what her future holds. Her marriage will seal the alliance between Mynaria and her homeland, protecting her people from other hostile lands. But Denna has a secret. She possesses an Affinity for fire—a dangerous gift for the future queen of a kingdom where magic is forbidden.

Now, Denna must learn the ways of her new home while trying to hide her growing magic. To make matters worse, she must learn to ride Mynaria's formidable warhorses before her coronation—and her teacher is the person who intimidates her most, the prickly and unconventional Princess Amaranthine (called Mare), sister of her betrothed.

When a shocking assassination leaves the kingdom reeling, Mare and Denna reluctantly join forces to search for the culprit. As the two work together, each discovers there's more to the other than she thought. Mare is surprised by Denna's intelligence and bravery, while Denna is drawn to Mare's independent streak. Soon their friendship is threatening to blossom into something more.

But with dangerous conflict brewing that makes the alliance more important than ever, acting on their feelings could be deadly. Forced to choose between their duty and their hearts, Mare and Denna must find a way to save their kingdoms—and each other.
*Released November 22nd 2016 from Balzer + Bray*
I'm going to try to keep this quick because the main reason I had so much trouble with this one is my almost complete lack of connection to the story and characters, and connection varies quite a bit from reader to reader.
This book started out just okay. I was having trouble connecting to the characters, but I was still intrigued by what was going on. Plus, Nils (a close friend of Mare's) was introduced and I was really liking the pop of personality that he brought to the pages. That remained to be one of the only things I liked about the book, though! Early on, I also liked the magic and the idea of the romance.
But then things went downhill and my dislikes snowballed until I simply. Did. Not. Care. About what was happening.
I never quite connected to the characters because they continued to feel flat and boring (except for Nils). The plot was...*waves hands around as I try to figure out what to say* Whatever was there, I wasn't interested in. The world confused me. I'm not sure if it's because the details weren't memorable, but there didn't seem to be enough groundwork in the world building in order to make me understand WHY things were happening the way they were happening. I didn't care much for the politics for this reason. The writing was nothing special.
Now, the romance. I thought I was going to really like it because I started off liking the idea of Mare and Denna together. They felt like a good match. By the time the romance picked up and feelings were acknowledged, though, I felt so disconnected to the story that I didn't feel anything about their relationship. I didn't see the chemistry that was supposed to be there. After I realized that, I lost even MORE interest in the book. Then I just forced myself to read the rest because...I don't even know why. I should've DNFed it, but I didn't listen to myself.
Obviously, this book didn't work for me! When I don't connect to the characters AND have little interest in the plot, I usually find it really hard to find other parts I like. I probably wouldn't have such a negative review if I cared more about what was happening in the book, but that simply didn't happen.
Oh. This review wasn't as quick as I intended. Whoops.
Rating: 1.5 out of 5 stars
*edits review after it's posted* Oh, silly me...I forgot to add my prompt.
I know that sometimes toughing a book out is worth if things get better, though it's difficult to tell whether you'll like it more later. DNFing is a bit of a gamble in that way. That brings me to my question...
Do you ever have so many problems with a book early on that it feels like a lost cause? Like even if things get a little better, it doesn't make any difference because your dislikes snowballed to the point of no return?
*insert gif of rolling snowball of negative feelings and reactions*
Happy Reading! ~ Kaitlin 😃