Wait.
This post is about Firsts??
My favorite book of the year so far that I read in JANUARY?
Yes. I've been sitting on my notes for this for EVER and haven't figured out a way to polish them into a decent review. I'm finally throwing my hand up in the air and saying "whatever, I'll just post what I have." Be aware that this is a rough draft and that I . . . may go on and on and on about one part of it. I mean it. I had a ridiculous amount to say.
My love for this book couldn't be trimmed down and put into a formal shape. It has to run free in its rough draft glory
. Okay, I'll shut up and give you the notes already. :D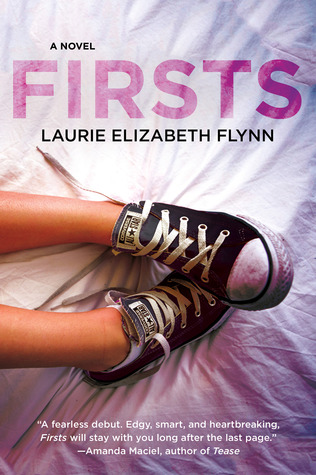 *I received an advanced copy in exchange for an honest review.
Seventeen-year-old Mercedes Ayres has an open-door policy when it comes to her bedroom, but only if the guy fulfills a specific criteria: he has to be a virgin. Mercedes lets the boys get their awkward, fumbling first times over with, and all she asks in return is that they give their girlfriends the perfect first time- the kind Mercedes never had herself.

Keeping what goes on in her bedroom a secret has been easy- so far. Her absentee mother isn't home nearly enough to know about Mercedes' extracurricular activities, and her uber-religious best friend, Angela, won't even say the word "sex" until she gets married. But Mercedes doesn't bank on Angela's boyfriend finding out about her services and wanting a turn- or on Zach, who likes her for who she is instead of what she can do in bed.

When Mercedes' perfect system falls apart, she has to find a way to salvage her reputation and figure out where her heart really belongs in the process. Funny, smart, and true-to-life, FIRSTS is a one-of-a-kind young adult novel about growing up.
*Released January 5th 2016 by St. Martin's Griffin*
Mercedes is amazing. Her voice was a tad dry in the beginning, but I immediately loved her. She is often-times called an "unlikeable" character, but . . . I disagree. At least, for how she was in the beginning (and it was hard for me to be upset with her when she was being more "unlikeable" later on--I had already gotten to know her too much). Was having sex with the virgins right? Was it good for her? Could it potentially end in disaster and make her feel horrible later on? No, no, and yes.
Did she think she was doing a good thing by making sure the guys knew how to make their girlfriends' first times more special? Yes.
Did she have valid reasons for believing that? Completely.
Mercedes wanted control. Needed it, really. And she found a way to do that: through sex. She may have been misguided about what was right and what wasn't (and whether she was really doing anything good for anyone), but she didn't fully realize that. When she came oh so close to figuring things about, she pushed the thoughts aside. I think she was afraid to think too long on the blurred morals. I think she wanted to keep believing she was being helpful--making herself useful--and that she was under control. Even the moments where it seemed so obvious to the reader that something wasn't right, she wasn't letting herself think too hard about it. All this helped make it easy for me to understand why she started up the thing with the virgins and kept the system going.
(I can relate to that because I tend to avoid problems too.)
Mercedes was a bit rude to her mom. She also pushed Zach away--one of the only people she could call a true friend--when she should've trusted him. Later in the book, she wasn't always nice when she talked to people. But really? These were the things that made me see how she is considered "unlikeable."
This was a misguided girl dealing with a lot of issues of trust, control, and family/friendship. She dealt with it in a way that was unhealthy for her. This is one of those cases where the character didn't really know any better due to past events, her homelife, and her insecurities.
But you know what? Mercedes was a genuinely nice person. She really liked helping people (it was apparent from the way she tutored and the way she thought of her system) and she truly cared for her friends (even when she didn't show that to them). She didn't act out of malice, unless you count the times she lashed out at her mom.
She grew. She changed. She re-examined what she was doing. She became a better person by realizing her decisions weren't good for her or anyone else involved (directly or indirectly). She learned to treat herself better. And she learned that she cannot control everything. She realized that life was more complicated and that wasn't such a bad thing.
Mercedes was an amazing character. I don't know what else I can say to convince you that she is. You'll just have to meet her yourself.
Other Parts
I should say something about the rest of the book, huh? What, Mercedes isn't all you need to know about? Ah, well. I can say more...
This book is very well written. It just had that very well written feel.
The book was a bit intense! I was worried for Mercedes. For her relationship with Zach. For her friendship with Angela. For the ugly aftermath of her decisions. I was also worried that there would be a part that would make me disappointed in the book. I went into it with very high expectations and I'm really glad I can say that every single one of them were met.
The romance was sooooo topsy turvy. My heart was beating so hard near the end because i had so many hopes and worries about their relationship.
It took me awhile to warm up to Faye because I was wary of her. Was she a good person? Would she be a good influence on Mercedes? Faye turned out to be my second favorite character! She blew me away with her actions and thoughts in the second half. I wanted to give her the Most Awesome Friend Award. (Would everyone have done what she did? Maybe this makes me cynical, but I don't think they would have.)
Zach . . . oh my god, he was such a sweetie. I loved him. It definitely wasn't easy for him, but he was like a rock. He was unmovable.
Mercedes' mom - We mainly see her from Mercedes' POV, and Mercedes had a lot of resentment built up against her mom. She acted out. She tried to get her mom's attention. She tried to get a reaction that seemed more suited to her expectations of parenting. However, Kim wasn't perfect. Her parenting wasn't great--not how Mercedes wanted it, at least. But there were still signs of how much Kim cared. We don't get to see all the effort the mom gave. There were glimmers. I wish there was a little more of them, though, because I know quite a few readers get annoyed with the "bad parent" trope.
More
I KNEW this book would be amazing. It met my super high expectations and I already know I'll read this one. I'll buy a hardcover, hug it, store it with my other favorite contemporaries, and fall in love with it all over again someday.
And . . . yes. There's more.
Mercedes learned so much about herself! She dealt with the aftermath. She had to go through the ugly confrontations.
But she came out a much stronger person. She learned to let loose on the control she was holding on so tightly to. She realized that life was more complicated and that wasn't such a bad thing.
This book was sex positive.
It featured a main character that grew a ton, though it may have been a subtle growth (which is really great because growth takes time--it also isn't always blindingly obvious). It featured a character that made mistakes out of misguidance--a character that made decisions more out of kindness and confusion and loneliness than out of malice. She was a teenage girl that wanted approval.
First spotlighted many issues: trust, sex, control, the little things in life, yourself, slut shaming, family (rocky parts), friendship, right vs. wrong (and the blurry line in between), double standards, life.
I REALLY LOVED THIS BOOK.
I did warn you about the length of my rough draft, didn't I? If you made it through the entire thing, you deserve cookies. Or points for your favorite Harry Potter house. You decide on what you get.
BUT SERIOUSLY. I LOVED THIS BOOK SO MUCH.
Happy Reading! ~ Kaitlin 😃