Hi everyone! I've been doing a lot of comic reading lately and felt like sharing my first impressions on the series I've dipped my toes in!
I currently have a free trial for
Comixology Unlimited
, which allows you to borrow certain titles for free (much like Kindle Unlimited, but for comics). I'm using it to jump around from series to series to see what ones I really want to continue and possibly get in print. So far, I'm pretty happy that I decided to do that because there are some series that I'm not very interested in continuing and others that I DO want to, but not as soon as others. It's also helped soothe some of my curiosity about series that I REALLY wanted to start, but probably would've put off starting them for a long time.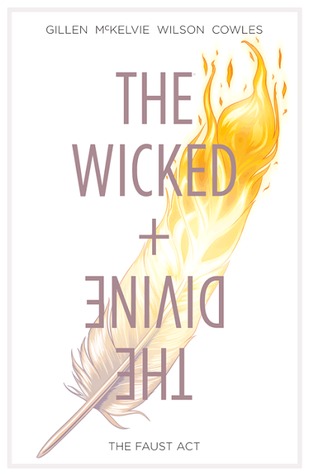 Faith volume 1
I read the first issue or two of Faith when it was available on Netgalley, so I decided to just go ahead and finish the first volume. It's okay, but er. Superheroes. They aren't my thing. I never used to pay attention to comics because they seemed to be mostly about superheroes. I highly doubt I'll continue Faith.
The Wicked and the Divine volume 1
Nope. I didn't like it. I gave it two stars because I didn't think it was a totally pointless read. Oh, and the art is decent. I found the story really hard to follow because you're dumped right in the middle of things and left to figure everything out as you go. Plus, sometimes the dialogue wouldn't make much sense. The story didn't interest me either.
Plutona #1
The first issue of this was okay. There's not much to it. It's set in a world where superheroes exist and a group of kids come across the body of one of them in the woods. I know issues are short, but considering that this series is only five issues long, the content needs to be fantastic to make up for the length. Maybe I didn't think there was much to this first issue because I didn't care for the characters? I think I will continue the series, but only if I come across a library copy or buy the bind-up on sale.
Revival volume 1
Comics like this are why I decided to try a bunch of series with the Unlimited free trial. The cover looks awesome, right? I didn't find the story to be as great. I want to see what happens with the characters in the next volume, but at the same time, I'm already finding the story to be forgettable. That's so weird to say because the dead people in a rural town come back to life and are--sorta--the same person they were before they died. Ditto on what I said about continuing Plutona.
Princeless volume 1 and Lumberjanes volume 1
I have similar thoughts on these, so I'm grouping them together. I want to continue both the Princeless and Lumberjanes series, but they're pretty low priority. They're both very fun and colorful with a great group of characters that I want to learn more about. With Princeless, the themes were blatant in the way that I don't like very much. Sometimes I like it when themes are in your face and impossible to ignore, but the ones in Princeless were just . . . not delivered in a thought-provoking way? I'm really hoping this makes sense. With Lumberjanes (this is a big positive), I could easily see it becoming a popular cartoon because of its character and art.
Jem and the Holograms volumes 1 & 2
Jem and the Holograms is fun! The second issue was okay, but the first impressed me. I liked the art a lot more than I thought I would; the covers look too busy to me. The panels and the artwork were much cleaner inside, though, and I loovvveeed all the vivid colors. I want to read more so I can learn more about characters.
I Hate Fairyland #1
This was another fun one! I like it more than Jem and the Holograms more, though, because the story interests me much more than a music-centered one. It starts out with this sweet (I guess) little girl that falls into fairyland and immediately wants to go home. She's given a map and then . . . is still trying to get out 27 years later. It's really funny, yet very violent and bloody. I've only read one issue so far, but I'm very excited to read more!
Locke & Key volumes 1 and 2
I liked the second volume more than the first! It took a long time for me to get into the characters and story, but now I'm more excited about the idea of reading the rest of the series. The keys are a nice concept. For example, there's a key to become a ghost: when you cross the threshold of the door, your body is temporarily "dead" and you're a ghost until you come back through the door. I believe they can only be used by kids and teenagers, though there might be ways around that... Anyway, there's also some mystery/thriller/horror elements that I'm getting more into as the story progresses. My library has the rest of the series, so I'll be picking up the rest soon!
Scott Pilgrim volume 1
I'm not really sure what I think of Scott Pilgrim so far. It's enjoyable! It's just . . . not wowing me. I want to read the rest of the series, though. My library has this complete series, too.
Alex + Ada volume 1
YESSSS. Alex + Ada is GREAT. It does have a rather plain style when it comes to art and paneling, but that does contribute to a sense of loneliness from the main character. I love the themes on humanity, artificial intelligence, and freedom. THE TECHNOLOGY. Imagine going into a forum--as in a virtual reality sense--to talk with others about a concern. There's a great conflict revolving around sentience vs. non-sentience as well as the ethics of suppressing sentience. Oh, and the story is engaging. This is a three volume series, which makes me even more excited to get my hands on the other volumes (though admittedly slightly disappointed that it's not a longer series since I really like it).
Sex Criminals volume 1
I really liked this! I love how to hold back on the topic of sex and the process of learning about it. The characters and the characters are pretty funny. Suzie's narration is interesting because she speaks directly to her and her older self will be shown talking in the middle of scene featuring her younger self. If you don't know already, this story features characters who stop time when they orgasm. It's a pretty weird story that's pulled off very well! There's not much bank robbing in the first volume, but there's probably going to be more in the second.
Have you read any of these series? What are your favorite comic series?
Other series I might dip my toes into with Comixology Unlimited: Pretty Deadly, Trees, Outcast, Bitch Planet, East of West, Giant Days, Chi's Sweet Home, Descender, Low, Injection, and Lazarus.