Hello again! I liked writing my last post (which was just to help me get reaquainted with blogging), so I'm going to continue it with more random books from my TBR. :)
Wuthering Heights is actually one of my current reads! I found a copy in my library's bookstore in December and since I've been in the classics collecting mood, I decided to buy it. It's not a book that I ever had a huge interest in reading, but I don't know...I just felt like having a copy. It kept staring at me, though. The cover caught my eye sooo many times before I got annoyed with it and decided to finally start reading it. 😂😂 Anyway, it's going slow, but I am liking it.
Oh, this diabolical book . . . I wasn't interested in it, but after it released, it started creeping up in my mind and pleading for attention. I'm curious about it for almost no reason. When it showed up on Overdrive, I was so excited and immediately placed a hold on it. Hopefully, I won't neglect this book as much as all my other library books because I really do want to read it soon.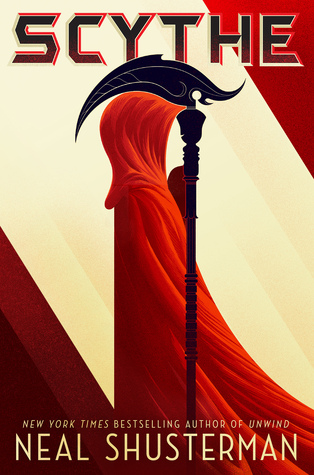 I might as well include Scythe since it's in the "readers also enjoyed" section of The Diabolic's Goodreads page. This was another book I put on hold the moment I found it on Overdrive! For the longest time, I wasn't even aware of the fact that Neal Shusterman was the author (even though his name is PRETTY BIG--something I really should've immediately noticed), so I used to only be slightly curious of this book. *shakes head at self* I should've known who the author was sooner. But I'm very, very excited to read this one. :)
Whhhhhyyyyyyyy haven't I continued this series, yet?? The first time I read this book was in 2011 or 2012 and yet I STILL haven't taken the time to figure out what happens next. *sighs*
I confuse myself sometimes.
Oh, look. Here's another series that I haven't continued since I read the first book years ago.
And another.
Moving on...
So, this isn't so random because I must read and review it before it releases on February 14th! This is a reminder to myself to get that done. :D Though I may completely suck at reviewing all my other review copies (*waves at the fall review pile that I didn't make any dent in*) and have gotten used to that, it's really important to me that I don't mess up with one directly from an author.
Note to self: READ AN ARC ALREADY, KAITLIN.
My blogging steam is running out already... So, here are some of the early 2017 releases that I'm excited for! :)
I'll try to write more the next time I do one of these posts! I'm not a fan of running out of steam/ideas so fast, but that's just my blogging mood lately. I'll probably keep up with random book lists for awhile so I can practice blogging.
Happy reading! ~ Kaitlin ☺