Top Ten Tuesdays is hosted by The Broke and the Bookish, and a weekly meme where we simply make a top ten list for the week's topic.
Heyyy, I haven't done one of these in a long time. I missed this meme.
Ten Hidden Gems I've Read In The Past Year Or So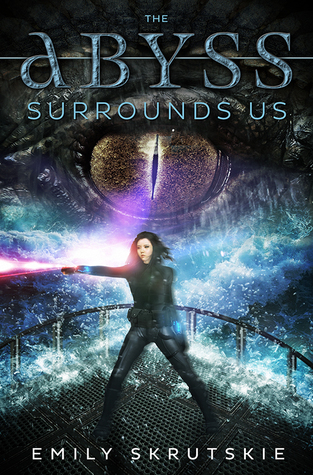 The Abyss Surrounds Us - This is one of those books that I used to think EVERYBODY knew about, though when I finally started reading it six months after its release, more people than I expected weren't familiar with the title. I saw some tweets asking about it and I immediately thought WHAT??!! I mean, there are sea monsters and pirates and an f/f romance and a kickass cover and oh so many awesome things, but it feels more like a hidden gem than it should.
S. Usher Evans' books - I really do adore her books! I love how there's variety in the stories and characters, but there's still a fun flavor than runs throughout everything I've read of hers. The Razia series is my personal favorite! It has one of the most memorable heroines I met in 2016, and I'm so impressed by that. Not a lot of characters stay with me this much for this long (since January 15th, 2016). Her Madion War Trilogy seems to be the most popular! And Spells & Sorcery is a super fun magic book. :)
Amy Chelsea Stacie Dee -
I accepted this to review on
Reading Teen
on a whim. I saw the cover and was intrigued by the title and then decided to just go for it. It turned out to be one of the most intense books I read last year. I remember feeling so caught up in the story. Many, many tears were shed. I must warn that it's a very dark read, though! (Kidnapping, sexual assault, and murder specifically.) I haven't seen much of anything said about this book, so it's definitely a hidden gem.
Unicorn Tracks - I lacked some connection to this book, but I really liked the cool, alternate world it was set in. I loved that it had some magical creatures (like unicorns) that I don't come across in as many of my reads as I want. Its world made the book feel unique.
Firsts - This is a book that I know a lot of people didn't like, and I wish more people loved it. Out of all the books I read in 2016, I think this one stuck with me the longest and made me think the most, partially because I do get why it would be a tough book to love. It left a LARGE impact on me, though I'm not exactly sure what that impact was. It just felt like the experience I had with this book was an important part of 2016 for me.
Anew - I feel like this is on a lot of people's TBRs/to-read shelves, but it's not high priority. I overlooked this for SO LONG and was really surprised when I finally read it. What stands out to me is how SHIPPABLE two of the characters were. I was able to get really into the romance! And the story. And its humor. Everything. I regret overlooking the series!
The Awesome - Ah, this book. The heroine had such a thin filter and I found it incredibly refreshing. I loved that she was one that readers could find as "crass" because, really, how often do we find heroines like that?? This book also has one of my favorite mother/daughter relationships because they were so open with each other despite all the tense moments they had.
Nameless - Aggghhhhadfkjasd, my memory on this is so bad and I'm really not happy about it. D: Anyway, I remember this one impressing me SO MUCH. I read it because a bunch of other bloggers were tweeting about how amazing it was. When I got around to reading it, I was sucked into the world and story. Unfortunately, I don't remember why, but it's still a hidden gem that I feel more people should give a chance.
What are some hidden gems you discovered in the past year or so? Have you read any of the books I mentinoed?
Happy reading! ~ Kaitlin ☺